22-06-2022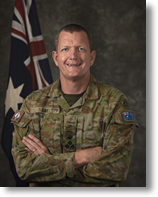 Commander 7th Brigade

Brigadier Mick Say, DSC
On the completion of officer training at the Australian Defence Force Academy and the Royal Military College, Brigadier Say graduated into the Royal Australian Engineer Corps.
As a junior officer, Brigadier Say completed a number of Corps postings within the 1st Combat Engineer Regiment, School of Military Engineering and the then Land Warfare Development Centre.
His non-corps postings included the operations cell at Headquarters 1st Division and Headquarters 7th Brigade. Brigadier Say had the privilege of being the Commanding Officer of the 1st Combat Engineer Regiment in 2013-14.
Post unit command, Brigadier Say completed a number of postings to Army Headquarters within Career Management – Army and as the Military Assistant to the Chief of Army. He assumed his current appointment as Commander 7th Brigade in December 2021.
Brigadier Say has been fortunate to deploy twice while in command positions: in Afghanistan as Officer Commanding Engineers for Mentoring and Reconstruction Task Force One and in Iraq as Commander Task Group Taji VII.
He also deployed to Iraq as the SO3 Engineer Operations in the British Headquarters Multi-National Division South East. Brigadier Say holds a Bachelor of Science and Masters of Management (Leadership) from the University of New South Wales, a Graduate Diploma in Strategic Management and Leadership from the Chartered Management Institute and a Masters of Arts (Defence Studies) from King's College London.
Brigadier Say is married to Wendy, an Army Educational Officer, and they have three sons.
Brigadier Say is Head of Corps for the Royal Australian Engineers. He is a passionate sportsman and still enjoys opportunities to play social cricket.
27-04-2020
The build of the bridge and its dedication is on the 11th of November 2022, at Anzac Park. Toowong Qld.

More information will be sent out as soon as we have confirmed details of the dedication of the bridge in Amiens, France.