22-06-2022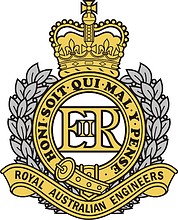 Commander 7th Brigade

Brigadier Mick Say, DSC
On the completion of officer training at the Australian Defence Force Academy and the Royal Military College, Brigadier Say graduated into the Royal Australian Engineer Corps.
As a junior officer, Brigadier Say completed a number of Corps postings within the 1st Combat Engineer Regiment, School of Military Engineering and the then Land Warfare Development Centre.
His non-corps postings included the operations cell at Headquarters 1st Division and Headquarters 7th Brigade. Brigadier Say had the privilege of being the Commanding Officer of the 1st Combat Engineer Regiment in 2013-14.
Post unit command, Brigadier Say completed a number of postings to Army Headquarters within Career Management – Army and as the Military Assistant to the Chief of Army. He assumed his current appointment as Commander 7th Brigade in December 2021.
Brigadier Say has been fortunate to deploy twice while in command positions: in Afghanistan as Officer Commanding Engineers for Mentoring and Reconstruction Task Force One and in Iraq as Commander Task Group Taji VII.
He also deployed to Iraq as the SO3 Engineer Operations in the British Headquarters Multi-National Division South East. Brigadier Say holds a Bachelor of Science and Masters of Management (Leadership) from the University of New South Wales, a Graduate Diploma in Strategic Management and Leadership from the Chartered Management Institute and a Masters of Arts (Defence Studies) from King's College London.
Brigadier Say is married to Wendy, an Army Educational Officer, and they have three sons.
Brigadier Say is Head of Corps for the Royal Australian Engineers. He is a passionate sportsman and still enjoys opportunities to play social cricket.
30-07-2020
July 2020
Dear Fellow Sappers,
Normally, I would be welcoming you all, at our 105th Annual Waterloo Dinner. This event allows us collectively as Sappers to come together, honour our proud heritage and reflect on the many achievements of our Corps - The Royal Australian Engineers. As your Head of Corps, I typically employ this opportunity to reflect on our proud journey and importantly, provide you an insight into the future.
This year is somewhat different. It has been challenging for all of us both as a Corps and personally - a year of uncertainty; one of bushfires, floods, pandemics and a troubled global economy. Apart from a couple of regions, the Waterloo Dinner has been cancelled; unfortunate yet not unexpected. As a result, I am writing to you to keep you informed, in this our 118th year since various colonial units merged as one Engineer team, under the authority of our Commonwealth constitution.
A ready and resilient Army and Nation is kept ready and resilient through its Engineers. We exist to provide engineering solutions for our Nation's toughest challenges. In the last twelve months we have led from the front - our Sappers are leaders among their peers; innovators at the forefront of national security, military engineering, humanitarian response, disaster relief, capacity building, facility management and technical design. Together, as a Corps of over 3, 500 men and women, we continue to be a globally-engaged force providing unmatched strength and value to others.
Defence's operational posture is changing, our long-term efforts in Iraq and Afghanistan are coming to a close, and our focus is further shifting to our region. Building partner capacity, mentoring and interoperability with our neighbours remains our main effort; critically important in the current strategic environment. In the last twelve months, we have deployed combat engineers to Timor Leste, Vanuatu, Solomon Islands, Tonga and Papua New Guinea, expertly aiding the delivery of vital facilities and training. Similarly, our works and construction engineers remain deeply involved in key strategic infrastructure projects. This includes the redevelopment of Lombrum Naval Base on Manus Island and in Fiji, the construction of a peacekeeping training facility at Blackrock Camp and now a Maritime Essential Services Centre. In Vanuatu, upgrades to barracks accommodation are underway as part of a security assistance package. These efforts by the Engineer Force have been simply magnificent, both enhancing our reputation and reinforcing critical relationships.
As part of the Federal Government's 'Closing the Gap' initiative, the Corps successfully concluded the Army Aboriginal Community Assistance Program (AACAP) in Jigalong, Western Australia. This year's project scheduled to be delivered for Pormpuraaw on the west coast of Cape York Peninsula, has been postponed until 2021. Future AACAP projects are expected in the Northern Territory in 2022 and South Australia in 2023.
Our Special Operations Engineers continue to develop and prepare task organised specialist technical Counter - Chemical, Biological, Radiological, Nuclear, Explosive forces to enable Special Operations and conduct Counter Weapons Mass Destruction missions. This includes technical specialists in Biometric and Forensic Collection, supporting the wider ADF exploitation enterprise through 1 Intelligence Battalion and ADF Joint Counter Improvised Threat Task Force. They are building close relationships with the Defence Science and Technology Group and the Australian Nuclear Science and Technology Organisation, supporting future research and development into vital areas of Australia's National Security.
The Corps was wholly involved in Operation Bushfire Assist. Sappers led the way and were reinforced when the Governor General called out the Reserve for the first time in its history. We deployed by road and air from across Australia to the badly affected regions - Adelaide hlills, Kangaroo Island, East Gippsland, the entire South Coast of New South Wales, Queensland border, Norfolk Island, Namadgi and the leafy suburbs of Canberra. We provided planners and liaison officers and manned community centres. We participated in regional recovery committees, conducted infrastructure assessments, disposed of livestock and refurbished local residences. We cleared 4, 850 kilometres of roads, repaired 1, 280 kilometres of fencing, cut 240 kilometres of fire breaks and produced 10 million litres of drinking water. Remarkably, for the first time on our home soil, we worked together operationally with our Engineer counterparts from Papua New Guinea, New Zealand, Fiji and Indonesia.
Then, a pandemic not seen since the end of World War One, struck our Nation. The Corps pivoted and immediately took charge in support of Joint Task Force 629. In the last few months, our Sappers have been supporting bio-hazard controls, airport arrivals and border check points across the country to prevent COVID19.
Although challenged by these crises, our readiness did not fail. Well done to all Sappers who responded and continue to do so during this difficult time. Thank you also to our families for their patience and goodwill.
This year the Corps leadership continues to resolutely execute, evaluate and adapt our RAE Strategy which guides Defence in how we organise, train, and equip our personnel; how we plan, prioritise, and allocate resources; and how we respond to emerging requirements and challenges. The upcoming release of Sapper - Plan 2028, provides greater detail. The Chief of Army's mission for us though is clear - to promote national interests, influence vital regions and enable the Joint Force to live, move, fight and win our Nation's wars. He wants us to 'Build Great Engineers.'
A significant ongoing effort has been advising Defence on Plan MONAShl. As a result of some outstanding work across the Corps, the Chief of Army recently directed an increase to our capability. In summary, this initiative establishes from next year an additional Chief Engineer Works unit (12 CE Works) in South East Queensland; supports the phased growth of a future Construction Engineer sub-unit in Western Australia, led by 13th Brigade; establishes senior technical and operational staff within Army Headquarters and Headquarters 2nd Division; and elevates part-time construction engineering support in Army for contingency requirements, joint collective training, domestic support and regional engagement.
These decisions will assist in delivering innovative, resilient, and sustainable Engineer solutions for Defence and the Nation. hlowever, there is more to be done and I challenge pach of you to continue to drive change and support us in preparing for tomorrow.
I see the following as key objectives for Engineers, aligned with Army and Defence initiatives. These will be our focus for future Corps workshops and conferences.
We must be recognised as the Engineering experts of the Joint Force Team. Experts who are innovative, adaptive, and situationally-aware; leaders solving the most complex problems. We must be able to continue to support the Joint Force commander on the optimum use and integration of combat, construction and specialist engineering and then aggressively execute as part of the combined arms team for decisive action.
We must develop Engineer solutions for multi-domain operations. I need your assistance to help us build the future Corps structure for 2028-35. This needs to be a mix of how we as a Corps support Army to generate total workforce opportunities, accelerate training transformation, optimise partnership with Industry, leverage resources and capacity of the National Support Base, enhance regional cooperation and capacity, and determine what long lead-time capabilities must be staffed and where we can accept risk in capabilities that can be quickly industrialised.
We must divest legacy capabilities no longer fit for purpose or irrelevant and sponsor Engineer research and development priorities. This has already started, including modification of our requirements for Army Work Diving. Further, we are to build decisive points that assist us as a Corps to synchronise future capability outcomes, rewriting Engineer keystone manuals and supporting the implementation of the Objective Force 2028 structure.
Our R&D priorities include Robotics and Autonomous Systems; Terrain Shaping capability as an alternate to mines; and Unmanned Aerial Systems integration. These efforts are being captured in the RAE Modernisation Plan led by Army hleadquarters.
We must further build and enhance our workforce by ensuring all risks are considered in Army's implementation plans, and especially Work Force 2028. We are already taking great strides in gender integration and talent management, the remediation of critical and at risk trades, the implementation of targeted direct entry and specialist service officer/soldier options and Part-Time Force integration. I ask that you elevate the employment of training technology, education and certifications; and integrate skills based policies, industry best practices, broadening postings and credentialing efforts across the Joint Force.
We must achieve the mobility alignment in our Combat Engineer Regiments. The recent Defence Strategic Update endorsed protective mobility and breaching capability for our combat engineers. This development continues and has been over a decade in the making. We need to now accelerate planning to synchronise preparation and the fielding of this capability to Units, including their training and education.
We must achieve 'More together' by 'partnering for impact'. Our Future is a partnered one. If you are not doing it already, you need to reach out to Air Force Engineers, Navy and the Defence Science and Technology Group. Partner with Engineers Australia, Worldskills Australia, Registered Engineers for Disaster Relief, Emergency Management Australia and State/Temtory Emergency Services. Seek out opportunities to partner with Industry. Be prepared to continue to work closely with Other Government Agencies.
We must extend Allied Engineer Force Interoperability. Similarly, it is essential we find solutions using the community of practise to resource, train, equip, support and develop ready forces. The Corps has recently revitalised our bonds of friendship with our Five Eyes partners and the NATO Military Engineering Centre of Excellence and promoted new relationships with Engineers in the Indo-Pacific.
We must promote Identity, Community and History. This is absolutely essential and I seek your support. SME is already leading from the front and will host 'Engineer Week' each year, including sponsoring the RAE Steele Cup Best Sapper Competition. The Corps is to enable future events/milestones; some examples include, supporting the 42 for 42 Afghanistan Memorial construction in Brisbane, participating in Tunnel Rat's visits to Vietnam, commemorating 1 Field Squadron Group Association's memorial at Amiens in 2021 , celebrating the Corps 120th Birthday in 2022, and undertaking a trek to observe the 80th Anniversary of the Bulldog-Wau Track in Papua New Guinea in 2023. The Corps is to support the RAE Foundation to reestablish Warrior Workforce with Industry. The RAE Corps History Volume V 1973-2002 is to be compiled together with the RAE Foundation, Corps Museum, Veterans and Industry. A proposal to capture our history in Afghanistan by interviewing recent Veterans - both serving and ex-serving - and delivering a film project, is to be considered.
We must promote and enable Sapper Associations. I once again encourage Sappers to join an Association well before they leave the Army and support all ex-serving Sappers to make the connection. Associations perform an essential supporting role, supporting influence and advocacy, sharing information to the wider community and enabling sponsorship. After our recent success, hlead of Corps will continue to sponsor a National Sapper Association Conference each year at SME.
I congratulate our award recipients in the last twelve months and the continued distinguished promotions of Sappers at every level. Well done to Brigadier John Shanahan DSC and Bar; Colonel Mick Say, DSC; Lieutenant Colonel Glen Billington, CSC; The late Colonel Robert Sanders, CSC; Lieutenant Colonel Brendan Hogan, CSC; Lieutenant Colonel Clare O'Neill, CSC; Colonel Craig Lauder, CSM; Lieutenant Colonel George Hulse (Retired), OAM; Mr Neville dark, OAM; the late John (Jack) Muir, OAM; Colonel Stephen Gliddon, CDS; Corporal Matthew Sullivan, 2019 Most Outstanding Engineer; Lance Corporal M and Sapper N from SOER winners of the 2019 RAE Best Sapper Competition; and the recipient of the inaugural 201 9 Brigadier General CH Foott CB, CMG Award, Colonel John Wertheimer (Retired).
Ladies and Gentlemen -
Sappers are innovative and cunning - but embody the spirit of our Nation.
Sappers are professional and humble - but if threatened, will become your worst nightmare.
Sappers are courteous and helpful - but ferocious in battle and will never leave a mate behind.
Sappers have unique technical skills - but care passionately about Family and Friends.
In closing, each of you can take great pride in the significant role you have developing, enhancing and protecting our Nation. The future will of course be challenging for the Corps, however, we will continue to hone our competitive edge and deliver vital solutions. When Engineers are needed, we will be there, now and in the future.
Thank you for what you do. Follow the Sapper. Ubique.
John Carey, CSC Brigadier, Head of Corps, Royal Australian Engineers
06-04-2020
Warrant Officer Class One Sean Chainey, OAM, DSM
Warrant Officer Class One Sean William Chainey was born and educated in Brisbane, Queensland. After completing an apprenticeship as a metal worker he enlisted into the Army in 1991 and was allocated to the Royal Australian Engineers.
On completion of his initial employment training Warrant Officer Chainey, was posted as a Combat Engineer to the 1st Field Squadron, 2/3 Field Engineer Regiment which was later re-named the 1st Combat Engineer Regiment. Whilst serving at the unit Warrant Officer Chainey deployed with the United Nations Transitional Authority Cambodia in 1992 and the International Force East Timor in 2000.
In 2001, Warrant Officer Chainey was posted to the School of Military Engineering where he served as a Demolitions Instructor and was promoted to Sergeant in 2002. He subsequently returned to the 1st Combat Engineer Regiment and served as a Troop Sergeant until 2004, where after successful completion of his Explosive Ordnance Disposal course, he transferred employment categories. Warrant Officer Chainey served as a Divisional Sergeant at the Australian Defence Force Academy before being promoted to Warrant Officer Class Two in 2005 and being posted to the 4th Combat Engineer Regiment as an Army Reserve Recruiting Officer.
Warrant Officer Chainey was posted to the Incident Response Regiment in 2007 as an Explosive Ordnance Disposal Troop Warrant Officer. During this time he conducted multiple deployments to Operation Slipper with the Special Operations Task Group and in 2010 was appointed the Squadron Sergeant Major of A Squadron. 2012 Warrant Officer Chainey was posted to the 6th Engineer Support Regiment where he served as the Search Warrant Officer conducting certification of all deploying RAE search teams.
Warrant Officer Chainey was promoted to Warrant Officer Class One in 2015 and served as the Wing Sergeant Major of Specialist Engineering Wing, School of Military Engineering before being appointed the Regimental Sergeant Major of the 2nd Combat Engineer Regiment in 2017. Warrant Officer Chainey, assumed his current position as Corps RSM in January 2019.
Warrant Officer Chainey was awarded the Distinguished Service Medal (for service in Afghanistan 2009) and during his service has received commendations from Special Operations Command and Forces Command.
Warrant Officer Chainey is married to Zhaohui. They enjoy home renovating, gardening and travel.